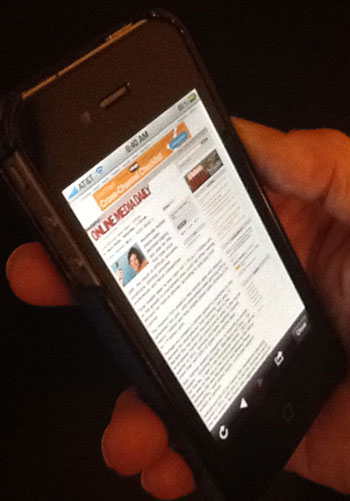 My inbox is full of mobile data today, and it seems that it has been all week. Everywhere I look, there's more evidence that mobile devices still continue to increase in importance for Americans (just when you thought that mobile couldn't get any bigger!). Here's just a sampling of the headlines:
It's hard to believe we're still having this conversation, but what this means is that you had darned well better being paying attention to what your website looks like on mobile devices (not to mention your emails and other electronic services and products). Here are some of the questions you should ask yourself to make sure your website is mobile-friendly:
Are you previewing and testing your website pages on mobile devices?
What about your ecommerce pages? Are you looking at them on mobile devices and testing to make sure the entire transaction process is mobile-optimized?
Does your website testing protocol include testing pages and functionality on iPhone, iPad, Android phones and tablets? What about Windows phones and other devices?
Are you looking at your website analytics to identify how many mobile users you have and what devices they use? How about their screen resolution? Is that on your radar? (In case you've forgotten, here's how to see mobile devices and screen resolution in Google Analytics.)
Have you taken your mobile analysis a step further, looking to see if you can identify specific pain points for mobile users (e.g., pages with high exit/bounce rates on mobile devices)?
Are you matching up the data you glean from your website analytics with the list of platforms and devices your are testing against?
Do you regularly look at your site's top landing pages to make sure they display well for mobile visitors?
Do you have a dedicated mobile site template so you don't have to display your full (and probably very complex) website to smartphone visitors?
Do you use responsive web design to give mobile users a better experience with your pages?
If you don't already see significant mobile traffic to your website, that alone should be a red flag for you. Given how much online activity has shifted to mobile devices in recent years, a lack of mobile web traffic could very well be an indication that your site is inaccessible or unusable on mobile devices.
What sorts of other testing and optimization are you doing for mobile? Are there specific challenges that you face and could use some help with?