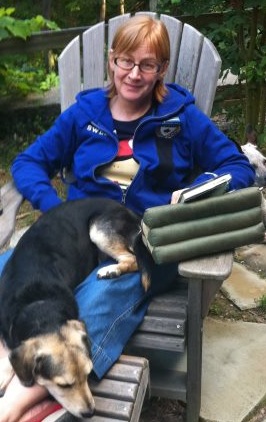 I'm Kim Kishbaugh, a communications strategist and director with deep roots in hard-news journalism, and this blog is my personal musing space.  My passions include the arts; my dogs; and communications and website management and best practices, including social media, web writing, usability, email marketing, data analytics and search engine optimization.
I'm also passionate about the good work that is done on a daily basis by non-profit organizations around the world, including non-profit associations. I currently manage content strategy for a large non-profit association and have worked for and with a wide range of other non-profits as well — both in paid positions and volunteer ones. I believe in doing good in the world.
I graduated from the University of Illinois with a bachelor's degree (B.S.) in Journalism and spent many years working in news journalism, most of them at a place called City News Bureau of Chicago. (City News no longer exists, which is a pity, because it was the best training ground anywhere for reporters. Look it up.) I also spent more than a few years working for a multi-national B2B publisher, primarily managing magazines and websites that served the electronics and hospitality (restaurant/hotel) industries.
I live just outside Chicago in Oak Park, Ill., home to the Frank Lloyd Wright studio and museum, the Frank Lloyd Wright Preservation Trust, and a whole slew of other beautifully preserved Frank Lloyd Wright buildings, as well as other historic homes and buildings. I'm a mom, an animal lover, a not-too-serious cook and baker, and an avid reader. I serve as social media editor and occasional columnist for the website Escape Into Life. I'm married to an amazingly talented cartoonist, Phil Maish, whose latest comics and portfolio can both be found at Myth-fits.com.  And I'm lucky enough to share my home with two former shelter dogs: Rolo, an Australian cattle dog – German shepherd mix; and Tank, a mixed-breed hound whose deep bark and long, low body attest to his Basset hound roots, but whose coloring and short ears came from somewhere else.