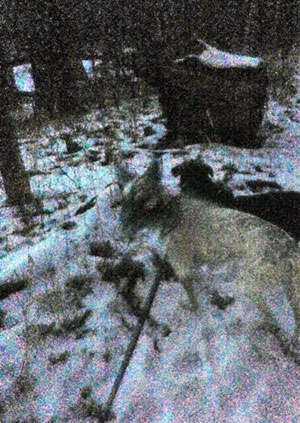 To the woods again
I arrived home from work tonight with just barely enough time to get my dogs to the woods before nightfall, and once again we were rewarded with an up-close encounter with deer. It was darker this time than last, and I think we caught the white-tail end of the herd's return to overnight quarters. We weren't surprised this time — the humans, at any rate, definitely were not, and I think the dogs had the scent as soon as we left our car — but we were no less in wonder at our good fortune.
These deer seem somewhat used to humans — not necessarily a good thing. So while we were within about 15 yards of them before we noticed their presence, we approached no closer — simply stood for about a minute to watch and then moved along. Our movement startled them enough to get them moving on as well, and we went our separate ways.
Walking in the woods with dogs is a simple pleasure, but one that fills me up. The exercise, the beauty of nature, the dogs' obvious happiness all combine to calm and center me. I grew up with woods and pastures just outside my back door, and I miss them. To be able to enjoy a bucolic, woodland moment in the middle of my workweek is a special pleasure and a privilege. I wish only that we didn't have to drive to get there.
And to the city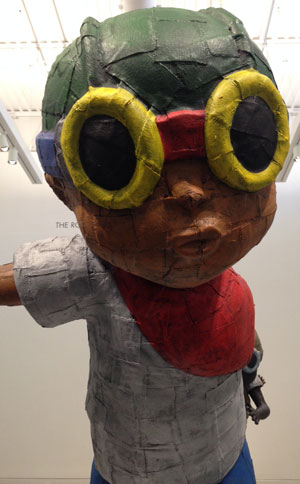 Yesterday we drove somewhat farther for a very different, much more urban experience. It was the last day of a museum exhibition featuring the works of Hebru Brantley, a Chicago artist known for creating the character Flyboy. Staged at a small art museum in the Chicago suburbs, it was both a feast for the eyes and a thought-provoking exploration of inner-city life.
Perhaps half of the pieces included Flyboy, some of them just joyfully exuberant but others — including an installation showing a seemingly dead Flyboy surrounded by compatriots/friends looking solemnly down at him, all behind a fence that the viewer had to peer through for a view — truly somber and mournful.
That installation moved me, bringing to mind all the slain youth of this country, and especially of Chicago, and the mental scars their deaths leave on the survivors who knew and loved them.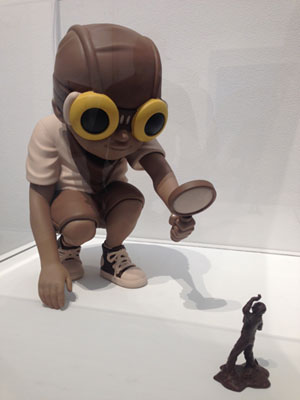 Other works also intrigued me, and judging from the reactions of those around me I'd say I was not alone. Viewers engaged with these pieces, often posing to have their pictures taken with them. These were works that drew people in. They were cartoon-like in many ways, clearly influenced by comics and manga, street art and modern pop artists. (The exhibition description specifically pointed to Keith Haring as one influence.) But they carried deeper subtexts as well, asking the viewer to consider the realities of American culture, societal norms and inequities.
I've included here some photos I took at the exhibition. If they interest you, check out the exhibition catalog; and if you ever have the opportunit to see Brantley's work in person, jump at the chance.