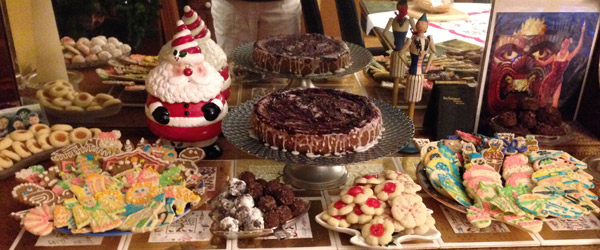 If you know me well, you probably know that holidays are food rituals for me. Thanksgiving is turkey and stuffing and pie; Easter is bunny bread (bunny refers to the shape, not the ingredients); St. Patrick's Day is corned beef; New Year's Day is lentil soup. Then there's the mother of all food rituals: Christmas.
My Christmas menu changes little from year to year. It always includes Swedish meatballs and baked beans, a Swedish potato sausage known as potatiskorv, lingonberry, mazarin torte, macaroni and cheese, salad and cooked vegetable, and a motherlode of cookies. The list of cookies is largely set in stone, and like the base menu it has its origin in what my mother made at Christmas time: pepperkakor (Swedish version of gingerbread), orange cardamom cookies (a sugar cookie variation), candy cane cookies, brandy balls, regular and chocolate spritz, pecan balls (also known as pecan puffs or Mexican wedding cakes). I've added a few favorites to the list over the years, but the core list of cookies is basically the same as my mother's. The dessert table from a few years back is shown in the picture up top. It's a fairly impressive thing in person.
I'm thinking about these recipes partly because I am deep in the throes of holiday baking and partly because I recently read Jeanette Winterson's book Christmas Days, which is a compilation of short stories and essays wrapped around holiday recipes. I reviewed Christmas Days last weekend for Escape Into Life, but I gave little attention to the recipes. I feel bad about that, for the simple reason that the sharing of holiday recipes is a special act of kindness and caring, and one that I don't often do.
In general, I share a lot of recipes. I've shared a few on this blog (including my mom's pecan pie, a personal favorite), and I share pretty liberally with friends. But it's hard for me to share my mother's recipes because she wouldn't share them herself. It doesn't matter that my mother died more than a decade ago; I still feel bound to honor her rule.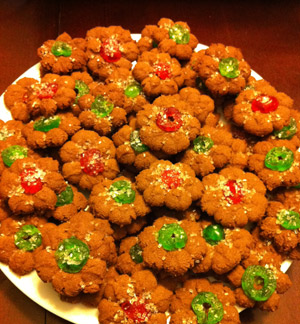 The exception — almost the only exception — is family. As they were my mother's recipes, I feel I can share them with family. Thus, I found myself last year compiling a small holiday cookbook filled with these recipes, which I wrapped up as Christmas gifts for three of my nieces and nephews. Of all the gifts I can give, this was one truly from the heart, and it made me happy to create and share these little books.
So it's with genuine gratitude that I received the 12 recipes in Christmas Days, many of which aren't Winterson's originals but are recipes she has collected from friends and family who were willing to share (yes, I get the irony: friends and family more willing to share than I am). There's author Ruth Rendell's recipe for pickled red cabbage; Winterson's father's favorite trifle; her wife Susie Orbach's gravlax; Chinese dumplings from a caretaker who once was associated with the owner of the Paris bookshop Shakespeare and Company; author Kamila Shamsie's turkey biryani; the list goes on. And each of these is presented with a short essay that is itself a gift, full of love. I never knew that I wanted to taste pickled red cabbage before reading this book. I do.
There you have it.
In the interest of returning the kindness of Winterson and friends, here's my recipe for pumpkin banana muffins, which sustained my son and his many friends throughout childhood, and still make their way into many of my holiday menus and an occasional care package for my son. One of his friends once called these "the muffins I crave."
Pumpkin Banana Muffins (or Bread)
(makes about 30 muffins, or 2 loaves)
1 1/2 C sugar
3/4 C butter
3 eggs
15-oz. can of pumpkin
2-3 medium to large bananas, mashed (I prefer 3)
1 1/2 C all-purpose flour
1 1/2 C whole wheat pastry flour
2 tsp. baking soda
1 tsp. salt
2 tsp. pumpkin pie spice
1 C chopped walnuts (optional)
Cream sugar and butter.
Add eggs, and mix well, beating until light and fluffy.
Add pumpkin and mashed banana, and beat until mixed well.
Add remaining ingredients (suggested order: add either of the flours, then all of the spices — soda, salt, pie spice — then the other flour). Mix until moistened thoroughly.
Stir in nuts.
Bake at 350 degrees, ~25 minutes for muffins or 50-60 minutes for loaves.
I've searched high and low, and I don't have a picture of these muffins. They're just muffins, after all, for eating, not photographing. Instead, here are pepperkakor: