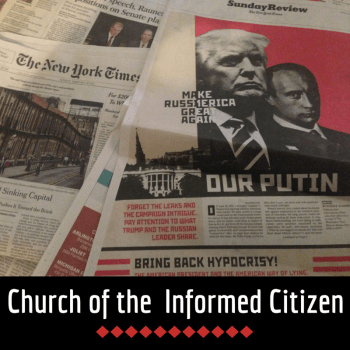 Several months ago, my husband and I began opening up our house on Sunday mornings to friends who want to join us for newspaper reading. I consider knowing what's going on in the world a civic responsibility, an obligation I owe to myself, my community and my country. Setting aside time to read the Sunday papers is important to me, and encouraging my friends to do the same feels right as well.
I wrote about this over on Escape Into Life, where I dubbed my new Sunday morning tradition the Church of the Informed Citizen. I came up with the name casually, but it has grown on me because I do believe that being informed and engaged is an ethical responsibility. I'm only half-joking when I say it's my religion.
We don't often get a lot of guests for our reading sessions. But I've come to realize that we have other people joining us virtually. I share articles on social media and see the headlines that my friends are sharing in their own corners of the world, and I read some of those and sometimes end up resharing them. We might not be in the same room, but we are reading together nonetheless. They're attending services in the Church of the Informed Citizen, whether they know it or not.
This week I'm taking it a step further. Below are some of the articles I read today that I think are worthy of your time. Some are short, some quite long. Some were in my own newspapers; some came to me through friends. All left me better educated.
I'd love to hear more suggestions, so please leave those in the comments or tweet them at me @kkish and use hashtag #ChurchOfInformedCitizen.
The Broken Promises of Choice in New York City Schools — Not a New Yorker? That doesn't matter; neither am I. This is an eye-opening piece about the shortcomings of educational choice (including school vouchers, though the article doesn't address them specifically) as a strategy for improving public education – anywhere. It's long, but well worth it. Two stand-out quotes here, but take the time to read for yourself; you won't be disappointed.
"Ultimately, there just are not enough good schools to go around. And so it is a system in which some children win and others lose because of factors beyond their control — like where they live and how much money their families have."
"If parents felt they had another option, how many would be happy to send their children to a school where more than a quarter of students do not graduate?"
Health Act Repeal Could Threaten U.S. Job Engine — Lots of articles have been written about the House vote this week to dismantle key aspects of Obamacare. You've already had plenty of opportunities to read about the politics of the vote and the impact it could have on American health care. This is about how it could affect the economy, and especially the economic engines in Rust Belt cities small and large, where a good portion of lost manufacturing jobs have been replaced with healthcare jobs. I was fascinated.
How a Revolving Door Bond System Puts Violent Criminals Back on Chicago's Streets — This is a well-researched and well-written piece examining the pattern of crimes committed by violent criminal suspects while they are out on bond awaiting trial in Cook County. "A Tribune analysis of five years of booking data at Cook County Jail found that at least 1 in 10 of those who were arrested and bonded out on gun charges committed serious crimes within a year — then bonded out of jail yet again. … The analysis also found that gang members facing felony gun charges often had little problem coming up with the cash to get out of jail, while nonviolent thieves and others languished behind bars, unable to post much lower bonds."
Why My Father Votes for Le Pen — One of the recurring themes in the Church of the Informed Citizen is a quest for understanding of people whose politics don't mirror mine. I was shocked when Donald Trump won election, and I have been trying very hard since then to understand the concerns and motivations of people who voted for him. This opinion piece by author Édouard Louis is, of course, about the French election; and by now we know that Marine Le Pen did not win. But Louis writes eloquently about why his father voted for Le Pen's father, Jean-Marie Le Pen, in 2002, and likely supported the daughter this time around. And I think this gives insight into why so many working-class Americans supported Trump. If you did not vote for Trump, please read this.
Trump Does not Know What it Is to Know — I read, watch and hear a lot of criticism of Trump from the left. George Will's commentary, from a right-wing intellectual, is scathing and unrelenting.
What did you read in the Sunday papers that you found worth sharing?