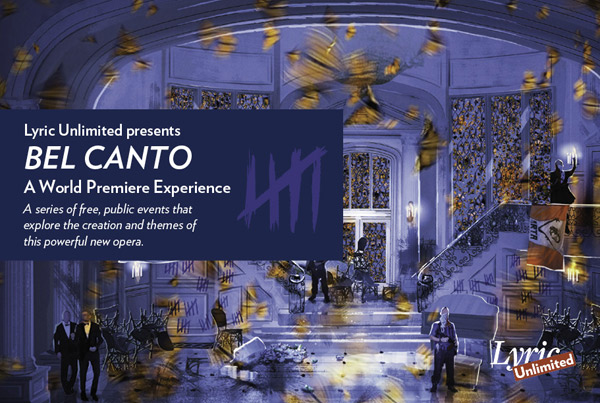 I have opera tickets, and I am filled with giddy anticipation. There are a couple of reasons for this:
I have always–at least always throughout my adult years–wanted to see opera. I am a lover, though not a connoisseur, of classical music, yet have never even listened to a recorded one. My husband actually worked in the Lyric Opera of Chicago's back office when I met him, and yet… never. I have friends who love it, friends who hate it, friends who are ambivalent. I number my husband in the latter group, and since tickets to the Lyric Opera, my local company, are not exactly cheap, I've always put off the experience for another time.
What has finally prompted me to buy tickets is the Lyric's decision to commission an original opera based on one of my favorite books of all time: Ann Patchett's Bel Canto. This is a book that I probably have read at least a half-dozen times, picking it up again every year or two since its 2001 publication. I'm not entirely sure why; this isn't something I regularly do with books. But Bel Canto is just magical for me, and every time I re-read it I am transported anew.
As part of the run-up to the opera's debut later this month, the Lyric has sponsored a series of three free public events: a chamber music concert curated by composer Jimmy López, who wrote the music for the opera; a discussion featuring Ann Patchett and soprano Renee Fleming, the Lyric's creative consultant for the Bel Canto project; and a panel discussion featuring Fleming, López, playwright (and librettist) Nilo Cruz, and others involved in the creation of the opera. I attended the first two events, and they only made me hungrier for the opera itself. In fact, they even piqued the interest of my husband, who also wants to see the opera now.
So about a week ago, I finalized plans with a few other friends…and bought tickets.
I can't wait. I've re-read the book in preparation–and once again was surprised, somehow, by the story (yes, despite the numerous times I've read it; how is that even possible?). And now I can't get enough of the Lyric. I check in on its Facebook page; I glance at Renee Fleming's Twitter feed; I read advance articles about the opera, which is still in rehearsals. I even want to buy more opera tickets, without even knowing if I will enjoy my first opera experience.
So am I nuts? Am I a sucker for the Lyric's marketing? Am I trying to create my own magic because this book has brought so much magic into my life already, starting with the first time I picked it up at a bookstore?
I wrote about the discussion with Ann Patchett and Renee Fleming in one of my first blog posts over at Escape Into Life, and I expect to write about the opera when I see it as well. Right now, though, I'm trying to decide whether to get tickets for The Merry Widow, which are deeply discounted in advance of the show's closing, or whether to "save myself" for Bel Canto. Renee Fleming stars in The Merry Widow, so that's quite tempting.
What to do? What to do?