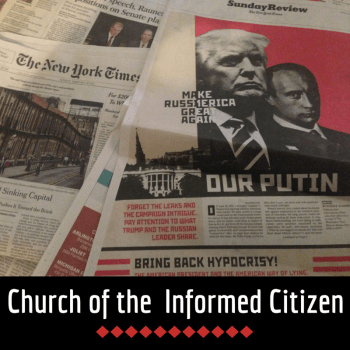 The much-awaited Senate proposal to repeal/replace Obamacare has occupied much of my attention this week. Here are a few articles I think do a good job of outlining and analyzing its provisions and impact.
The Senate health plan's release isn't the only important story this week:
Trump also decided that the answer to "Did he tape his conversations with Comey?" is no. (Although, gosh, he doesn't know if someone else might have.) Interestingly, his decision to tease or threaten with suggestions that such tapes might exist seemed to backfire; Comey has said it was Trump's suggestion that prompted him to let loose with news that he had written a real-time memo describing his meeting with Trump. Politifact has a timeline of the saga of the nonexistent tapes.
Over on Slate, "Polemicists in Robes" offers a sobering look at some of the president's far-right nominees to the federal bench, who are young enough that they could be deciding cases for decades to come if confirmed. (Spoiler Alert: One of them actually called Supreme Court Justice Anthony Kennedy "a judicial prostitute" on his personal blog.)
And here in Illinois, we *still* don't have a state budget. Despite the legislature being hauled into special session purportedly to address the problem,. there's no progress. The Chicago Tribune lays out the situation and what it might mean:
"If an agreement isn't reached in the next week, ratings agencies are poised to cut the state's credit to junk status, road projects may be suspended and Illinois may be dropped from the multi-state Powerball and Mega Millions lottery games. Come August, the state may no longer be able to afford to pay employee salaries, send money to school districts or make required pension contributions. Also at risk is accreditation for some state universities."
On the environmental front, the Tribune also brings bad news:
Billions of gallons of untreated wastewater, including sewage, is still being dumped into the Chicago River on a fairly regular basis when there are storms.
An Asian carp was caught swimming in the Calumet River, beyond the electric barrier that is supposed to keep this dangerously invasive species out of Lake Michigan. The discovery comes as the Trump Administration is pushing for a budget that would gut funding to programs that aim to block Asian carp from the Great Lakes. To me, this is not just about ecosystem and environmental protection. It is about our food supply and the health of the Great Lakes fishing industry. Why would we not want to protect those?
I still have more than half a dozen browser tabs open and a lot more reading to do. It has been a busy week.