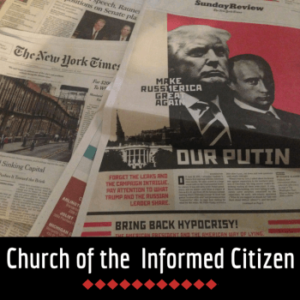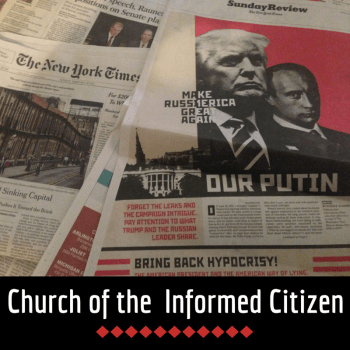 Former FBI Director James Comey testified before the Senate Intelligence Committee this week, and he and the president basically (actually?) called each other liars. But as Maureen Dowd put it in the New York Times, "the president is not in any immediate jeopardy of being indicted or impeached." Up next, Attorney General Jeff Sessions has agreed to testify before the committee Tuesday.
There has been a lot of reporting and analysis of Comey's testimony. The Boston Review has an insightful piece dissecting how the president's supporters have started attacking Comey with words that portray him as a woman. It's a sad commentary that feminizing someone in this country amounts to demonizing, denigrating and dismissing them, but it's true. If you are interested in good government, good citizenship, and ferreting out truth, pay close attention to the language used in debating issues and discussing news. Don't let yourself get distracted from the real issues by this sort of sleight of hand.
On a related topic: As I told my Facebook friends today, I honestly never thought I'd find myself quoting a supermodel, but… Paulina Porizkova has a marvelous opinion piece in the New York Times called "America Made Me a Feminist." Read it. Says she: "In America, a woman's body seemed to belong to everybody but herself. Her sexuality belonged to her husband, her opinion of herself belonged to her social circles, and her uterus belonged to the government."
There's more Trump news this week that's worth more than a mention, but I'll be brief:
Trump has put his previously announced state visit to Great Britain on hold because he doesn't want to go there until the British public wants him to do so. (That could be a while.) According to The Guardian, he talked by phone with British Prime Minister Theresa May and "said he did not want to come if there were large-scale protests."
The president has been blocking users who disagree with his views from  his Twitter accounts. The Knight First Amendment Institute considers that a First Amendment violation (full disclosure: so do I) and told him so in a letter asking that he stop the practice and unblock the users he currently has barred. (If you're not a Twitter user, it's probably important to know that blocking someone on Twitter doesn't just keep them from commenting on your tweets; it bars them from seeing your tweets.)
ProPublica and Slate report that Trump is far from the only public official blocking social media users who express dissenting views.
Other national news:
There also are a couple of opinion pieces on my recommended reading list:
Dear Paul Ryan, Listen to Your Constituents (New York Times): "Speaker Ryan, you and I may disagree about abortion, but we agree that cervical cancer and breast cancer shouldn't kill young women, that family planning should be available, that sexually transmitted infections should be treated. Look around your own district, and it's Planned Parenthood that is providing those desperately needed services."
Stop Pretending You're Not Rich (New York Times): Richard V. Reeves looks at class privilege in the United States and argues that it's not just the top 1 percent who are favored disproportionately but the top 20 percent. "The rhetoric of 'We are the 99 percent' has in fact been dangerously self-serving, allowing people with healthy six-figure incomes to convince themselves that they are somehow in the same economic boat as ordinary Americans, and that it is just the so-called super rich who are to blame for inequality."
The Headless Superpower (New York Times) provides context around the dispute between Qatar and Saudi Arabia in which the U.S. president inserted himself this week on the side of the Saudis.
Here in Illinois, we still don't have a state budget. We've been operating now without one for more than 700 days, and there's no end in sight. Politico's How Illinois Became America's Failed State traces the path that got us here and looks at some of the very expensive ramifications. Have I mentioned that Illinois' bond rating is barely above junk status? Illinois bonds took a further beating this week after a federal court ruling related to the state's failure to pay outstanding Medicaid bills.
One more article for Illinoisans: How SB1 Would Rewrite Illinois' Broken School Funding Formula is a solid look at the education funding bill that could finally bring meaningful change to Illinois' school funding formula.