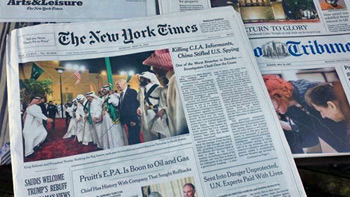 What a week for news. I'm still reeling from it. Make sure you didn't miss any of the biggest stories: Here's the New York Times' Saturday roundup, aptly titled, Having Trouble Keeping Up With All the Trump News? Here Are the Must-Reads.
It doesn't include any coverage of Trump's overseas trip; you'll have to find that elsewhere. Unfortunately, it looks like you won't be able to find any first-person coverage by U.S. reporters of a news conference that Secretary of State Rex Tillerson held in Saudi Arabia. This is because no U.S. reporters apparently were invited. This is a frightening turn. Regardless what you believe about American journalists, this nation's top officials should be answerable first and foremost to U.S. citizens (represented by U.S. media). What happened to America first?
One other important piece missing from the NYT roundup is a piece by the Wall Street Journal reporting that a state-run Russian bank provided financing for a property sale that ultimately pumped funding into Trump's Toronto hotel. It's complicated, and unfortunately the WSJ story is behind the paper's paywall. Here's a short summary on TheHill.com.
A good portion of my Sunday was spent catching up on all the articles I had saved during the week for later reading. My Family's Slave is a fascinating and complex piece by the late Pulitzer Prize winner Alex Tizon about the woman who helped raise him and who, he eventually realized, was a slave who had been "given" to his mother before his family moved from the Philippines to the United States. It's the cover story of the June issue of the Atlantic Monthly.
I'm still working my way through a roundup of opinion pieces from writers on both the left and right of the political spectrum, to which a friend drew my attention and which dovetails nicely with my desire to read opinions on all sides of issues rather than isolate myself intellectually with like-minded compatriots. One of the interesting links within it is to a National Review piece in which Andrew McCarthy says he was flabbergasted to learn that Trump portrayed former FBI Director James Comey to Russian diplomats as "a nut-job." Says McCarthy: "Let's say that, as Sean Spicer says, Comey is a grandstander who has intentionally politicized an investigation in order to undermine the president. He's still not the Russians." (Emphasis in the original.)
Other articles I recommend:
Please share your news article suggestions in the comments or on Twitter with the hashtag #ChurchOfInformedCitizen.